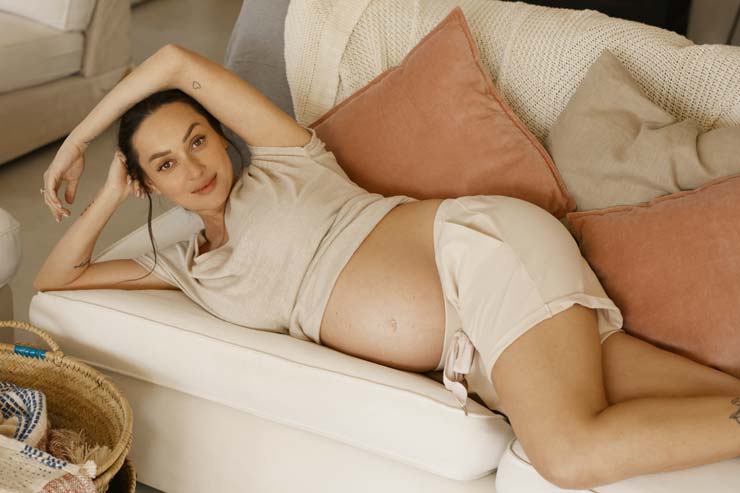 – FIRST, A LITTLE BIT ABOUT US –
Avishag Arbel has been one of Israel's leading maternity brands for over 15 years, with seven retail shops across the country.
We pride ourselves on offering our customers a unique selection of comfortable, fashionable, and affordable maternity clothes that are designed not only to fit and flatter you throughout your pregnancy, but to remain staple pieces in your wardrobe even after your baby has arrived.
Each one of our designs is conceived, developed, and brought to life by Avishag Arbel, who began her journey into maternity wear design as both a designer and expectant mother herself in 2004. During her first pregnancy, she became acutely aware of the lack of stylish and affordable clothes on the market for expecting moms looking to express their innate style and personality through their clothes. Drawing on her education in Israel's prestigious Betzalel Academy of Arts and Design and her years of hands-on work as a designer, Avishag set out to create a new kind of maternity wear brand, one that doesn't compromise on style for comfort, or on comfort for style. Today, after establishing the brand in Israel, Avishag Arbel is expanding internationally, with new designs and the same sense of innovation and individuality woven into every cut and design.
– WHAT SETS US APART –
Our goal here at Avishag Arbel is to provide you with an always updating selection of maternity clothes that don't compromise on comfort or style, and that enable you to express your style and individuality through every stage of your pregnancy – from bump to baby, and beyond.
As a brand, we pride ourselves on authenticity, which is why we only model our maternity clothes on expectant mothers. Every piece you see in our collection has been vetted, tested, and tried by moms-to-be. And as we all know, momma always knows best!
The clothes we create are designed to be lived in, which is why we hold ourselves to the highest standard of quality. All our designs are created and produced right here in Israel, with in-house quality assurance to ensure that our customers receive pieces that are flawless and ready to wear the moment they arrive.
At Avishag Arbel, you'll be able to find the perfect piece for any and every event, and for each stage of your pregnancy – from first trimester to fourth, from nursing your newborn to holding their hand as they begin taking their first steps.
From our studio in Tel Aviv's trendy Florentin neighborhood, we bring to life designs that were made for you. Follow us on Instagram at @avishagarbel_com, on Facebook, or reach out to us by email at service@avishagarbel.com.
QUESTIONS? WE'RE HERE TO HELP!
Call us at +972 3 6810018 or email us at service@avishagarbel.com.
Avishag Arbel Maternity
Abulafiya 28, Tel Aviv Israel
607019