The perfect pair of jeans isn't always an easy find, let alone finding a pair, whilst you're pregnant. That is why here, at Avishag Arbel, we have made it our mission to manufacture the perfect pair of jeans, so your concerns are over.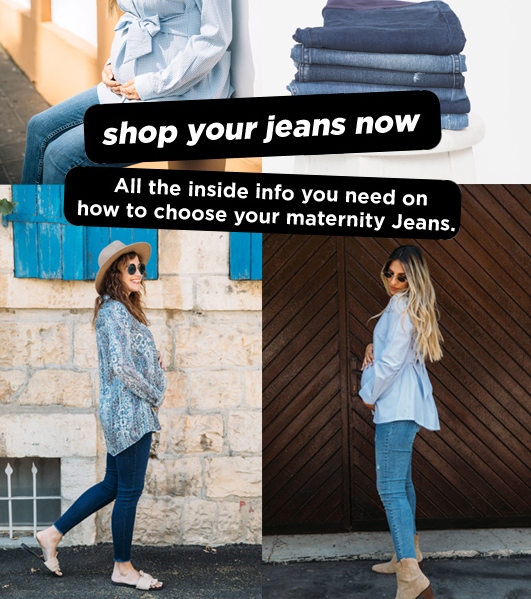 At Avishag Arbel, our jeans are comfortable whilst still maintaining a flattering fit for all body types. Being the 'fashionista' that you are, it's clear that a good fitting pair of jeans are a must in every woman's wardrobe. That is why we have designed the best and the most up-to-date maternity jeans just for you!
There is that moment during your pregnancy when you optimistically try on your favourite (until now) pair of jeans, and no matter what position you're in (lying down on your bed, jumping up and down - we've all been there!), you simply can not button up that last stubborn button.
Worry no more! In our Jeans collection you will find two solutions that will make your pair of jeans the number one item in your closet. All you need to do, is choose the right maternity fit that suits you. The pair that makes you feel the best.
Stretchy lycra band over the stomach- low cut jeans.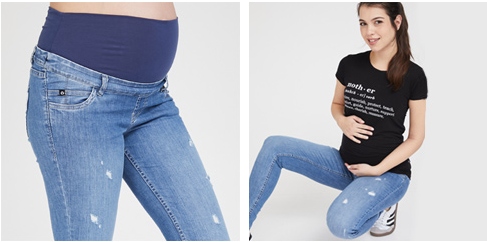 The elastic band over your stomach really makes the difference. For the ultimate snug fit for your body, you will be able to adjust the rubber loops around your waist to suit each stage, as you grow. The buttons create the appearance of the jeans we all love to wear.
Elastic side jeans -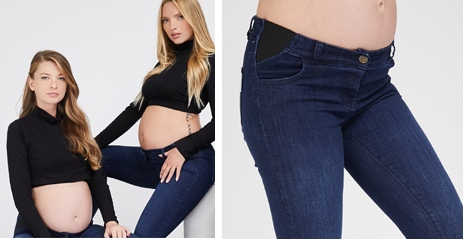 these jeans do not have a special method, as the other jeans do, but (and that's a big but), these jeans have flexibility around the waist and look exactly like the jeans you owned before you were a "mom to be".
All the jeans in the collection are suitable for all stages of the pregnancy and for every body type. The perfect pair is right here! All you need to do, is to choose which one is best for you.
Here are our tips for picking the prefect and most fashionable maternity jeans:
Comfort is key.
Jeans are a 'must' in every woman's wardrobe because you can wear them nearly everywhere and always look different. As a pregnant woman, your comfort is of prime importance whilst still being able to continue with your vibrant lifestyle. Make sure you purchase a pair that will make you feel at your best. If you're not comfortable, everyone will notice, and there's nothing stylish about that.
Timeless and classy is all you need.
Especially at a time when we are all learning about maintaining a classy, minimalistic wardrobe; it is time that we learnt to pick out the right items to pursue and allow that lifestyle. That is why a pair of blue and black jeans are a must in every wardrobe. These are items that can be paired with almost anything and you will be able to enjoy them at any event (yes.....watching Netflix is counted as an event too).
Sizing.
There is nothing comfortable or more irritating for a pregnant woman as when her jeans are too tight. Please, don't insist on the size tag. Every pair stretches up half a size while being worn and then shrinks back to its original size after being washed. But also, try not to purchase a size that's too big for you for the same reason – they will stretch and shrink right back to their original size after going being washed.
Laundry.
Less of a tip and more of a 'wise suggestion'.
Try and wash your jeans as little as possible, that way you will extend their life expectancy and you will enjoy them for longer.
My advice is to wash the jeans inside-out at 30°C and let them dry (still inside-out) in the shade.
The jeans have a tendency to lose some of their original colour in the first few washes, so try and put them in the laundry with clothes of a similar colour.
Check out all the fashionable Maternity Jeans we have to offer:
Skinny Super Stretch: The ultimate pair of jeans. This lycra saturated fabric allows the jeans to give you the stretchiness that is much needed during those months of pregnancy. The fabric will do your body justice in just the right places, while emphasizing all the right curves.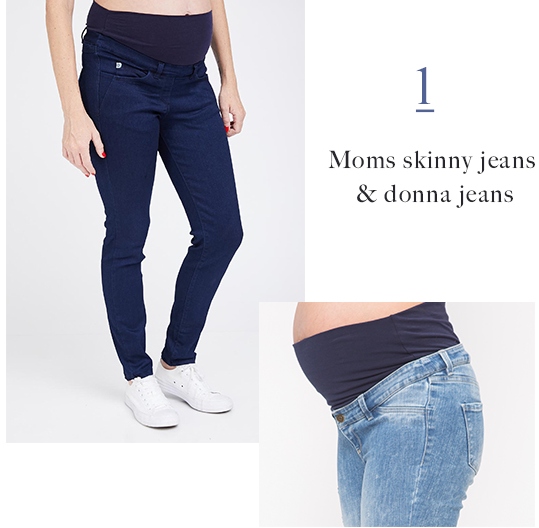 The High- Olivia Jeans: Retro 90's vibe and the best of both worlds. A fit that sits just right on your body giving you the perfect figure from behind and ending the jeans with an ankle length ruffled hem, that is edgy and very trendy.
This item has the stretchy lycra band, so you don't have to give up being comfortable whilst being fashionable.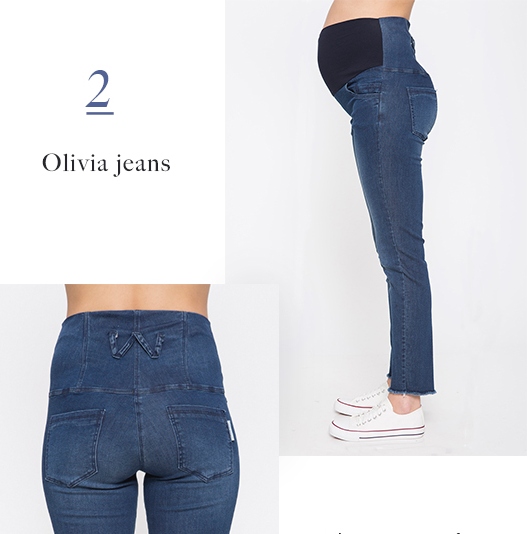 Skinny Premium: For all those skinny jeans lovers that prefer wearing the jeans without the elastic band, we have the same ultimate pair of jeans without the band.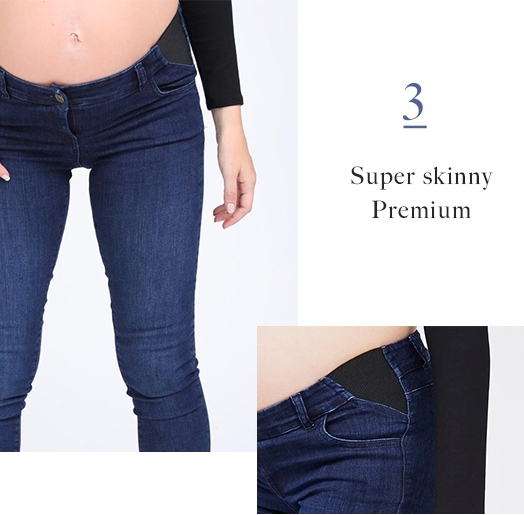 Ripped Jeans Skinny: The edgy, cool and still very feminine look. These jeans will give you that "I just threw these on this morning and still look amazing" look. Definitely not trying too hard, but giving it all.
Denim Skirt: Don't we all have those mornings where we wake up and feel like wearing a skirt? Well, we've got the perfect one for you. Pair these with any shirt and you will automatically rock that "ready to go, girl vibe'.
Available in mini or knee length (if you get both, we won't judge).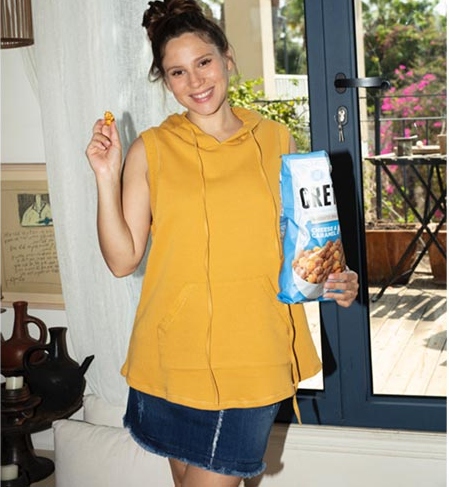 so head over to our jeans selection and choose the perfect pair of maternity jeans for you!
Happy shopping :)